Our team, our pride
---
 The team at Mekosha, Trivandrum has been handpicked and has a collective 94 years of experience. We pride ourselves in being the kind of  team that comes with smiling faces, open arms and helping hands – ever ready to carry you through different parts of your healing journey at Mekosha.
RAM WASAN
Principle
Ram is a business leader with more than two decades of experience in the Food Tech, QSR and Hotel Industry. Ram is one of the few senior leaders who understands operational finesse, has business acumen and is innovative in his approach.
Ram started his career at the Oberoi School of Hotel Management. He has since worked in numerous managerial roles across the country in food & beverage, rooms division, lobby and general management. He later joined the Reliance Group of Industries as a National Head, where he developed and conceptualized their new highway hospitality business. This included the first of its kind greenfield Pan-India network of more than 125 highway plazas.
As the COO for Chalet Hotels (K Raheja Corp), Ram played a stellar leadership role in various developments – Marriott Whitefield, Westin Hyderabad, Renaissance Powai, Four Points by Sheraton Vashi among many others.
Ram was the MD Asset Management at HVS International, has worked with DLF Ltd. and has set up the Citrus Hotels brand across India. He was also a part of the team that created The Manor, India's first designer boutique hotel and Nukkadwala a QSR chain of smart and stylish restaurants, for the value conscious.
Realizing wellness as a distinct segment, that personally appealed to him, he conceptualized and created Mekosha Ayurveda. His vision is to take Ayurveda to the world.
MAMTA WASAN
DIRECTOR & CEO
Mamta holds a degree in Sociology from Mumbai University, a Degree & Post-Graduation in Hotel Management from the Institute of Hotel Management, Mumbai & The Oberoi School of Hotel management respectively as well as a Masters degree in Human Resource Management from IMT Ghaziabad.
She began her journey with L&D, as Training Head of The Oberoi Group, then in leading the training function at General Electric (GE) & the Reliance Group in their Telecom venture. She also set up a Hotel Management Institute for the VGP Group in Chennai, India.
Thereafter, she moved to FIS, the world's no 1 Fintech Company, where she grew the company from 4,500 employees to 28,000 employees.
Managing change & building teams across diverse cultures with a strong focus on Health & Wellness is her expertise as seen in a career that has ranged from Hotels to Education to Human Resources & now, Mekosha where her passion for wellness and Ayurveda thrives.
AYURVEDA DOCTOR PANEL
Chief & Consulting Physicians
Mekosha's panel of doctors are authorities in the field of traditional style of Ayurvedic treatment. With over 50 years of expertise and proven track records of classical style of treatment, their work has immensely benefited several people all over India and the world. Typically, one or two of Mekosha's doctors cater to the retreat at a time.
Their education is from the top Ayurveda institutes of Kerala and India, and many of our panel doctors have traveled extensively across the length and breadth of the Indian subcontinent, collecting medicinal plants to replenish extensive organic infusions, treating patients with chronic and complicated diseases as well as delivering lectures on Ayurveda, partaking in discussions and seminars pertaining to the propagation of various treatment modalities cited in the Ayurvedic texts. With their extensive knowledge on various subjects like Sanskrit, Vedas, Mythology, ancient Indian Culture and Classical arts etc., Mekosha's panel is considered to be one of the best in the industry.
Under their guidance and advice, Mekosha and its guests are in the best hands when it comes to Ayurvedic treatment.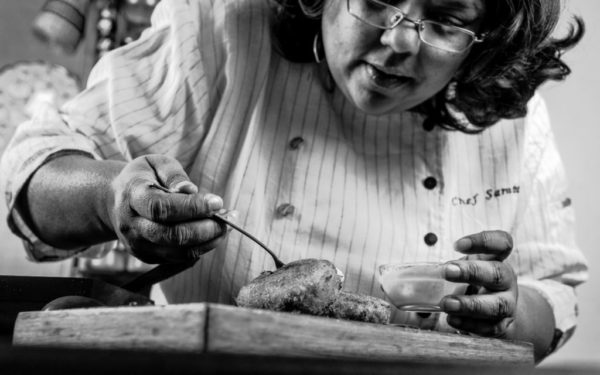 SAMTA GUPTA
Chef
Chef Samta Gupta's professional experience of more than two and a half decades with various restaurants and hotels across the world (including Taj Group of Hotels Mumbai, Indian Food Festival Japan, World Bank Cafe Delhi, Twist of Lime Goa & Turmeric Pot Australia among many others) has given her a well- rounded skill set. She is an amazing creator of magic when it comes to tossing up a sensational culinary menu with various ethnic and eclectic cuisines.
​Having worked in many kitchens around the world, nothing gives her more pleasure than getting her Chef's whites on. She has indeed worked with Ayurveda dedicated chefs to create a world class cuisine for Mekosha – one that imbibes the wholesome values of Ayurvedic principles.
YOGACHARYA RAJ SHINE
Yoga Guru
Yogacharya Raj Shine, is a yoga teacher and spiritual seer in International Sivananda Yoga/Vedanta. He is a disciple of Swami Govindananda, Prahlad and Manichaitanya, renowned Yoga gurus. He has completed his International TTC, ATTC and Sadhana Intensive Programme, each accrediting him with the best of yogic knowledge.
He has also completed an Advanced Spiritual Course commonly known as Sampoorna, an Advanced Yoga Certification Course (SAYTCC) which includes 500 hrs of yoga affiliated with the Registered Yoga Alliance.
He practices the art and science of Yoga at Mekosha, Trivandrum with the guests and equips them to learn the fine nuances of this ancient science. He is symbol of natural energy, which he transfers to each of the participants of his yoga courses. His passion and enthusiasm is distinctly visible and rubs off on all our guests!