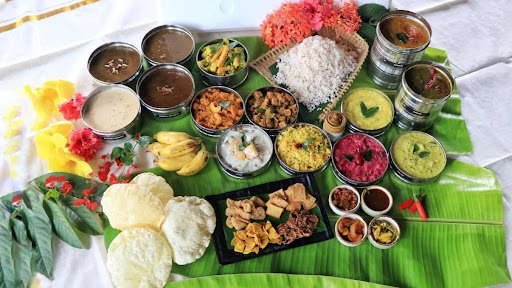 Onam is one of the most popular festivals in Kerala, India. It is celebrated during Chingam, a Malayalam month. Onam is a 10-day harvest festival that commemorates the homecoming of the legendary King Mahabali. It is celebrated not only in Kerala but also in other parts of India.
The Onam Sadhya feast is a traditional and integral part of this festival. A Sadhya also known as, 'Sarppadya' or 'Sadipada', is an elaborate vegetarian feast, often including more than 15 different dishes. Onam Sadhya recipes consist of dishes rich in flavors and spices, with both sweet and savory dishes. It is traditionally served on banana leaves in small individual portions. The food is made as per Ayurvedic principles, which makes it nutritious as well as delicious. 
Ayurvedic Principles and Onam Sadhya
The principles of Yoga and Ayurvedic food are applied in choosing the ingredients, eating patterns, and cooking utensils, as well as all other elements of the Onam Sadhya. For example, Sadhya can only be eaten with the right hand as the South is believed to be inauspicious. Food is served on a banana leaf and no cutlery is used, to ward off negative energy. Furthermore, the banana leaf's tip is to be pointed towards the left and food is to be served starting from the top left corner. Sitting cross-legged is believed to aid digestion, and ease blood flow as per Yoga, and therefore the Sadhya must be consumed while sitting in that position. 
As per Ayurvedic food guidelines, garlic and onion, are considered Rajasic food and therefore traditionally not used in food preparation. Onam Sadhya recipes only include Sattvic and local ingredients which are gut-friendly. Ingredients like jaggery, ginger, cumin, etc. are used which boost immunity, prevent food poisoning, purify the blood, and are rich in iron. Moru or Sambhaaram (buttermilk) is served at the end of the feast to regulate body temperature.
Top 6 Onam Sadhya Dishes
1. Pulissery
A popular and simple Onam Sadhya dish made with cucumber, buttermilk, and a blend of Ayurvedic spices that is bound to excite your taste buds. Pair this with roti or rice for a wholesome meal.
2. Thenga Choru
A tasty spin on everyday rice, this coconut rice dish combines the goodness of cashews and urad dal, along with herbs and spices, chilies, and the citrusy tang of lemon.
3. Avial
This savory dish consists of potatoes, raw bananas, carrots, drumsticks, raw mango, and beans. This is a traditional dish served on top of Kerala rice that will make you want to dig right away.
4. Paal Payasam
Any Onam Sadhya is incomplete without a smashing desert, and Paal Payasam is just the dish for that. This dish is a fairly simple one consisting of just 4 ingredients – milk, sugar, rice, and ghee.
5. Rasam
Rasam is a big hit with any South Indian cuisine. Onam Sadhya Rasam consists of toor daal, pepper and tomatoes. It can be eaten both as a soup or with steamed rice.
6. Kalan Kerala Curry
An easy breezy curry made with coconut, buttermilk, mustard seeds, and raw bananas, along with an array of other subtle spices, Kalan Kerala curry is a traditional Onam Sadhya dish.
Onam Sadhya recipes have variations based on religion, however, the essence of the feast remains the same. Sadhya is followed by the chewing of betel leaf with lime and areca nut. This helps aid digestion and cleanse the palette.
Onam is a wonderful time to take a dip in the vast ocean of Indian culture. Come visit Kerala and contact us for the full package. Here at Mekosha Ayurveda Spasuites Retreat, we offer you the experience of a lifetime with the most exciting Tour Packages and Accommodations, complete with Ayurvedic Packages and Ayurvedic Cuisines.
Book your stay with us today!