How to Make Ayurvedic Smoothies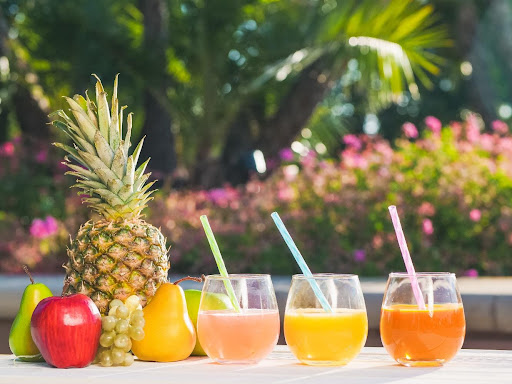 Ayurvedic smoothies are not only meant to optimize digestion but are also incredibly yummy and satisfying for your mind and body.
Ayurveda, an ancient science that originated in India, views a balanced lifestyle and diet as the key to optimizing general health and digestion. Sadly, a major portion of what people consume causes imbalances and harms digestion. 
Smoothies are increasingly becoming popular as they are healthy and easy-to-make. Smoothies are considered the most effective during summers as they tend to have a cooling effect on your body. Ayurvedic smoothies are typically a combination of fruits and vegetables with digestion-stimulating spices and herbs. 
Turning any smoothie Ayurvedic
Choose 'Agni' igniting ingredients
Avoid frozen ingredients and/or ice by adding something that boosts digestion and is also tasty like lime, cinnamon, ginger, cardamom, etc. Adding coconut oil or any other healthy fats is also good for digestion and will give your smoothie a better texture.
Use water or herbal tea as a base
Smoothies generally contain high quantities of sugar which leads to blood sugar instability and excess calories. Water or herbal tea is a great alternative for this. Some yummy options include ginger, tulsi, chai, hibiscus, chamomile tea, lemongrass, etc. 
Do not use too many ingredients
Healthy ingredients when taken all together and blended become unhealthy, hard to digest, and overpowering. Keep your smoothies simple by limiting the ingredient list to 1-2 fruits, 1 seed, 1 healthy fat, an herbal tea base or water, and spices.  
Rehydrate
Your body loses a considerable amount of water through sweat and respiration. Therefore, making your smoothies with coconut water instead of just water is a great way to rehydrate as it is loaded with electrolytes. 
Ayurvedic Smoothie Recipes
Almond and Date Shake with Cinnamon
Step 1 – Soak 2 whole dates overnight and remove their pits.
Step 2 – Warm 1 cup of almond (or any homemade) milk or use it at room temperature, as per your preference.
Step 3 – Puree the milk, dates, and 1/8 inch of ginger in a blender. Also, add 2 pinches of cinnamon.
This smoothie is to be preferably consumed during autumn-winter. You can have this on the mend, or during bedtime. 
Apple Lime Smoothie with Cardamom and Ginger
Step 1 – Chop 1 whole apple, scrape some lime zest with a grater, or sharp knife, and grate 1/8 inch of ginger.
Step 2 – Add all the above-mentioned ingredients to a blender along with a pinch of cardamom powder. Squeeze some lime juice in the mixture and keep adding water until pureed smooth.
Step 3 – Serve immediately. To keep the smoothie from separating add some kiwi.
This smoothie is to be preferably consumed during summer. 
Banana Smoothie with Cardamom and Lime
Step 1 – Juice 1/3 of a whole lime and throw away the rind.
Step 2 – Combine 2 cups of sliced bananas, 1/4 teaspoon of cardamom, and 1 cup of coconut water in a blender and make a smooth puree. (Use normal water if you don't have coconut water).
Step 3 – Serve immediately to enjoy this replenishing, refreshing, and cleansing drink.
This smoothie is to be preferably consumed during the summer. You can have this during a cleanse or detoxification.
Do not forget to check out the Ayurvedic Recipes that we serve at our Communal Table. Here at Mekosha Ayurveda Spasuites Retreat we also offer you a course on Becoming an Ayurveda Chef so that you can take the recipes home and continue living your best life.