What is Panchakarma and How Can It Help You?
This road to detoxification and healing through ancient practices will take you back 5,000 years ago when, in the Vedic texts in India, the components of Ayurvedic healing were being recorded. Among the comprehensive set of ancient medical teachings practiced traditionally by Hindus is the Panchakarma treatment. Rooted on the principle of maintaining the body's equilibrium through food intake, herbal medicines and yogic breathing techniques, these Ayurvedic practices remain relevant in today's world – a testament to their preventive and curative powers. Let's learn more on how the ancient principles of Panchakarma works.
Panchakarma – An Ayurvedic Journey to Wellness and Balance
Panchakarma is coined from two Sanskrit words "Pancha", meaning five and "Karma", meaning actions or treatments. Thus said, Panchakarma is a five-step process involving the detoxification of the human body from the negative effects of poor health choices, disease and environmental pollution. By restoring our natural healing capacity, quality of life and healing abilities improve. When these are complimented with practices to heal the soul and emotions such as meditation and yoga, we achieve total Ayurvedic good health.
The quest for better health and improved quality of life has been riddled with pharmaceuticals and synthetic cures that alleviate only symptoms and not necessarily cure diseases. Preventative care likewise is borne of chemical concoctions. The level of stress brought about by keeping up with health fads and trends take a toll on our bodies.
Panchakarma treatments work on the basis that the body has the natural capacity to process and remove any toxins from its system. It's ability to heal and purify itself wears out due to many factors. Lifestyle choices such as poor diet, alcohol consumption and smoking and long-drawn out hours take its toll on bodily functions. Disease and some genetic pre-conditions also make for the inability to maintain the right balance within us.
Taking the Panchakarma treatment is essential as it lays down the very foundation of your journey towards good health – a cleansed body. Essentially, it is restoring your body to as near a clean slate possible – free of toxins and naturally doing the process of eliminating and further imbalances. Simply put, we do not build a beautiful house on a termite-infested foundation. We need to rebuild, restore and rejuvenate. Such is the important role that Panchakarma plays in Ayurveda. In fact, it is one of the best steps that you can take at the beginning of the journey to detoxify. This Ayurveda treatment process achieves optimum balance and health through 5 steps.
Prevention and Healing through Panchakarma Treatment
With Ayurveda practices, most illness are prevented long before they manifest in a person. The periodic detoxification and cleansing of Panchakarma ensures that a person's systems are working and in order, not allowing the villains of disease to accumulate – toxins. Ayurveda detects any imbalances during the process and alleviates this through customized therapy sessions. As Elbert Hubbard quoted, "Prevention is better than a cure."
However, in many cases, many of us are already afflicted with physical disorders or even serious diseases. Ayurveda Panchakarma treatment can cope with a majority of diseases. The medical cases that have been treated through this therapy include:
• Cardiac disorder – blood circulation problems, hypertension
• Respiratory problems – coughs, colds, alleviation of asthma, allergies
• Gastro-intestinal Problems
• Dermatological diseases – eczema, psoriasis
• Joint diseases – arthritis, gout
• Women's fertility problems – PCOS, infertility
• Slipped Discs
• Insomnia
• Psychological Imbalances – Addiction, Depression and Anxiety
• Functionality Problems such as paralysis
Through cleansing and restoring the body's innate detox system, Ayurveda and Panchakarma therapies return the body's natural healing system as well as boosts the immunity. As all non-surgical cures, it may take time. However, going through the natural process of allowing the body to be restored and overcome illness and toxins does result into a better health as we age.
An important note to remember is to make sure that before undergoing any of the therapeutic steps, it is a must for a certified Ayurvedic practitioner to assess your current health situation.
The Steps to Restoration and Rejuvenation
In Ayurvedic Panchakarma treatment, the entire body is divided into sections which will be addressed in different forms of treatment, mainly the head and the upper and lower gastrointestinal tracts. The five elements that compose the classic Panchakarma detoxification are the following:
Poova Karma
This is the preliminary procedure before the main Panchakarma treatment commences. It involves the softening of tissues in order to facilitate the liquefaction of lipid-soluble toxins in our tissues, allowing them to be excreted through the digestive system. This step prepares a patient mentally and physically for the main Panchakarma treatment procedure. During this step the patient will undergo the following:
• Pachan Karma – fasting and partaking of herbs so a patient can digest liquefied butter otherwise known as ghee to dissolve fat-soluble toxins
• Snehan Karma – administering increasing doses of medicated ghee to the patient to stimulate liquefaction of toxins that are fat-soluble and rooted deep in the tissues
• Swedan Karma – deep Ayurvedic massage and steam bathing in order for the opening of body channels to facilitate digestive tract movement
Pradhan Karma
This is the main Panchakarma 5-Step Therapy which will entail the supervision of a certified Ayurvedic practitioner. It is customized according to a patient's age, digestive health, immunity, curative needs and other health factors that need to be properly evaluated.
Cleansing the body though the five karmas involve: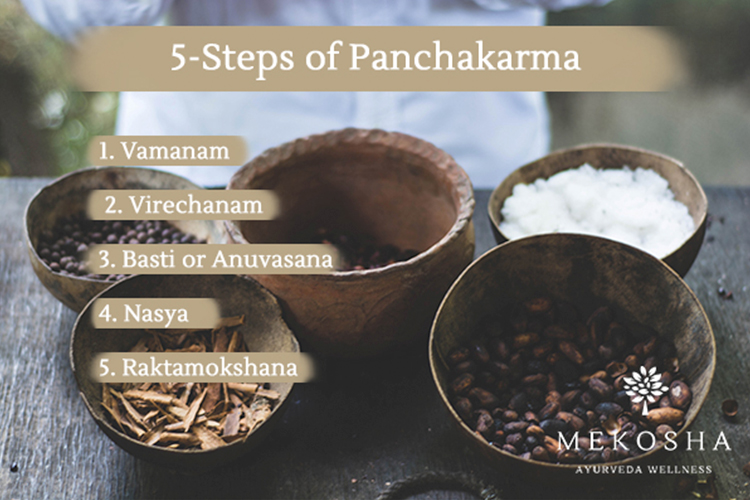 1. Vamanam – Therapeutic induced vomiting to clear parts of the respiratory tract and the upper gastrointestinal tract until the end of the stomach
2. Virechanam – Purgation to clear lower gastric tract from the stomach to the excretory system
3. Basti or Anuvasana – Herbal oil enemas to clear the rectal area of lipid waste
4. Nasya – Nasal Irrigation to cleanse the para-nasal sinuses and respiratory tract
5. Raktamokshana – Letting Out of Impure Blood
After these procedures, the patient undergoes a post-therapy diet to restore the digestive tract. These procedures are included:
Sansarjan Karma – post detox food therapy
Rasayan Adi Prayogam – therapy to enhance natural immunity
Shaman Chikitsa – herbal therapy for calm. This involves lifestyle management changes as well
Together with rejuvenating treatments and changes in lifestyle and diet, one can experience the full benefit of Panchakarma treatment. Each treatment is customized and may take as little as 7 days or last up to 21 days. However, there is no denying how much Ayurveda Panchakarma treatment changed lives for the better.
Experience the Shifts Towards Restoring Your Body
What it is the body that the Panchakarma treatment addresses, it also has effects on the emotions, minds and soul. From the preparatory sessions, one unearths many hidden distresses as self-awareness increases. The treatment makes you more in tune bodily and establishes a stronger connection with the soul.

You may feel hidden resentments, old anxieties creating an emotional upheaval along with the detoxifying process. The bodily treatments may initially be uncomfortable, further inciting upheaval. This is normal as we are being purged holistically of bodily and spiritual toxins. It is advised that you communicate these emotions to your therapists as they can provide Ayurvedic relief to alleviate you in the process.
Panchakarma is the physical catalyst that will heal your body, connect you with emotions, mind and soul. This synchronicity will enable you to function better in all the four aspects resulting in a fuller life. A wholistic experience in healing and rejuvenation is what Ayurveda and Panchakarma treatments have to offer. To have your healing time in the best places in India ensures that you get that authentic treatment package and a well-deserved respite from the stress and the noise that inundates our daily lives. You don't have to think twice – start planning your journey to healing, detoxification and rejuvenation.
At Mekosha, certified Ayurveda practitioners and medical doctors administer the age-old therapies with bespoke programs. Highly trained hospitality staff attend to your needs as you go through your Panchakarma journey. The peaceful and lush banks of the Attingal Aaru river will connect you to nature, heightening rejuvenation. Everything you need for a complete retreat – from therapies to cuisine and support services are found in this beautiful detox retreat spot in India.